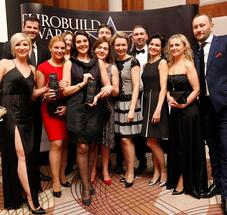 The Eurobuild Awards selects the best companies of 2016, as well as the best projects developed or opened between October 2015 and September 2016. Prizes are given in four categories: Lifetime Achievement Award, Jury Awards, Tenant Awards and Popular Vote Awards.
In the Jury Awards category, Prologis won "Warehouse Developer of the Year, CEE." To date, 2016 has been the most active year for Prologis CEE since 2008. The company started 18 development projects totalling 331,000 square metres in core CEE locations; those projects included eight speculative facilities. Each new facility was submitted for BREEAM accreditation.
"This has been a very busy year for Prologis in CEE, as we were the only developer to start developments in all four countries across the region," said Martin Polak, senior vice president and regional head for Prologis Central and Eastern Europe. "We have achieved 95-percent occupancy and a customer retention rate of more than 80 percent. We are proud to be recognized for the pace and quality of our work, as well as for the transparency with which we do business—this is a critical factor in how we build lasting relationships with our customers."
In the Tenant Awards category, Prologis won "Best Warehouse Manager of the Year, Poland." The award was given to Marta Kostyk, Prologis property manager in the Lower Silesia region.
"High-quality property management is at the top of our agenda and is key to Prologis' success across the region," said Renata Michalczyk, director, head of property management, Prologis Poland. "We are very proud of the teamwork behind this award, and the fact that it comes from our customers, who to us are the most important judges of our work."
With its active engagement in four CEE countries and a portfolio totalling 4.4 million square metres, Prologis is the leading provider of distribution facilities in Central and Eastern Europe (as of 30 September 2016).
ProLogis