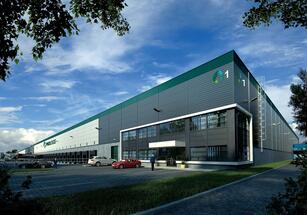 The new cross-dock facility will feature a large number of docks on both sides of the building, a design that will help to optimize the customer's operations. At the request of the Geis, both the parking area and the picking area will be expanded, whereas the office space will be provided in the form of a pop-up block.

"We needed a trustworthy and reliable partner. We chose Prologis because of our long-standing relationship with the company in the Czech Republic, where we have our distribution facility at Prologis Park Ostrava," said Michal Martinovic, Managing Director Central and Eastern Europe, Geis Group. "We also took into account the excellent location of Prologis Park Stryków, which has access to the A1 and A2 motorways, as well as the fact that Prologis owned the land and also had full building permission, which enabled the project to begin immediately."

"When delivering BTS projects, the key to success is understanding the needs of our business partner. Our dedicated project team studied Geis' operational processes in detail and proposed structural solutions that ensure their optimisation," said Ewa Zawadzka, vice president, head of land and development, Prologis Poland.

Prologis Park Stryków is located within one kilometre of the junction of two main motorways: A1/E75 (Gdańsk-Vienna) and A2/E30 (Berlin-Moscow). The road infrastructure connects the Łódź Metropolitan Area with the entire country. At completion, the park will comprise 115,500 square metres of modern logistics space.

With its active engagement in four CEE countries and a portfolio totalling 4.3 million square metres, Prologis is the leading provider of distribution facilities in Central and Eastern Europe (as of 30th June 2016).
ProLogis