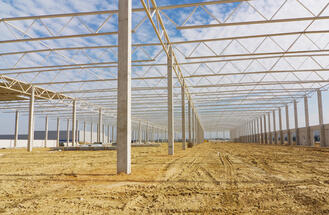 CBA's 21,000 square meter facility, a central distribution hub for the operator of convenience stores and supermarkets across Slovakia, is scheduled for completion in the fourth quarter of 2019. It will be the only development at the new Prologis Park Ziar.
The development will feature state-of-the-art logistics solutions, designed to meet the exacting specifications for companies like CBA that deal with perishable goods, including cooling areas for the storage of refrigerated goods. As part of Prologis' standard offering, the building will also offer LED lighting and smart metering systems designed to reduce energy consumption and raise efficiency.
"The demand for high-quality facilities, in well-connected locations like Ziar is growing strongly, leading to rising rent levels across central and western Slovakia. We are delighted that CBA Slovakia has chosen our new park and trusted our ability to provide the necessary technological solutions for its central distribution hub," says Martin Stratov, director development and leasing Slovakia.
Prologis Park Ziar is located in Ziar nad Hronom, 174 kilometers northeast of the Slovak capital, Bratislava. It is connected to the national and international traffic network by the R1 motorway which provide fast and efficient access to Bratislava, Vienna, Prague and Budapest. The prime location and availability of a large pool of skilled labor creates the ideal conditions for centralized logistics activities.
Prologis is a leading provider of distribution facilities in the Czech Republic and Slovakia with more than 1,6 million square meters of logistics and industrial space (as of December 31, 2018).
Prologis