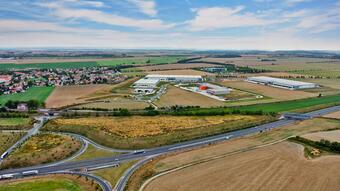 ESA Group, one of the leading logistics companies in Central Europe, will lease Building 2, making the 97,800-square metre Prologis Park Prague-Uzice fully occupied. The company is an existing customer of Prologis at Prologis Park Prague D1 East, southeast of Prague. Cushman & Wakefield brokered the transaction.
"Currently, our Czech portfolio is 99-percent leased, indicating the great market conditions and demand for the kind of quality and services that Prologis provides," said Martin Balaz, director of leasing and development, Prologis Czech Republic and Slovakia. "It is always satisfying when current customers choose to expand their operations with Prologis, as it validates our business strategy to offer unrivalled customer service and support, while flexibly meeting the often specific needs of our customers."
"In 2017 ESA logistika increased its warehouse capacity by approximately 30 percent to 137,000 square metres," said Roman Pekrt CEO ESA logistika. "With Prologis as our business partner, we have been able to execute our expansion plans in Prologis Park Prague-Uzice in a timely fashion and with minimum of fuss. We consider this as a follow-up and extension of mutually beneficial cooperation which started already in 2010. We value Prologis as a partner that continuously understands and fulfils our needs and are looking forward to working together across the CEE region."
Prologis Park Prague-Uzice is a modern logistics park located on the D8 highway, 9 kilometres north of Prague. The park comprises two fully leased logistics buildings totalling 97,800 square metres and has development potential of an additional 71,000 square metres.
Prologis is a leading provider of distribution facilities in the Czech Republic with more than 1 million square metres of logistics and industrial space (as of 30 September 2017).
ProLogis