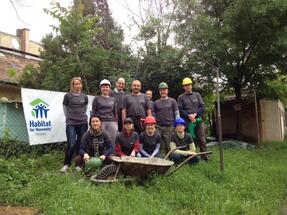 Prologis employees from Poland, the Czech Republic, Slovakia, Hungary, and Romania were involved on 16 May in many projects undertaken by local charitable and non-profit organisations, ranging from trimming trees in a park to building a playground and renovating a house.

In Poland, Prologis helped Helenów
Employees of the company's Polish division continued the project initiated last year for the Centre for Rehabilitation, Education and Wel¬fare in Helenów. They built see-saws at a playground for children under the centre's care and painted fencing surrounding a paddock for hippotherapy horses.

Czech Republic took care of UNESCO treasure
The team from the Czech Republic worked in Průhonice Park, which is on the UNESCO World Heritage List. They trimmed trees, mowed lawns, nurtured plants and carried out other gardening work. They also supplied animal feed bags to one of Prague's shelters for homeless dogs and made a donation to "Slunce," a school for disabled children, which has been supported by the company since 2011.

Slovakia renovated children's' nursery
The Slovakian team worked at a childrens' nursery in Stupava, which is near the capital city of Bratislava. Their work included repairing the old wooden playhouses, brushing and treating the jungle gyms, planting new grass in the play area, planting new flowers and repairing the old garden. The team also supplied animal feed for homeless dogs in Bratislava.

Hungary and Romania for Habitat for Humanity
The joint Hungarian and Romanian team once again volunteered at the Habitat for Humanity Foundation. This year, employees renovated a shelter for the homeless near Budapest.

This day of volunteering marked the company's second IMPACT Day, a global day of service in which more than 1,400 Prologis employees around the world cumulatively volunteered more than 7,000 hours in their local communities on the same day. IMPACT Day emphasises the company's core values of Integrity, Mentorship, Passion, Accountability, Courage, and Teamwork.

"IMPACT DAY is a unique initiative under which Prologis CEE employees work together to help those in need," said Ben Bannatyne, Prologis Managing Director for Central & Eastern Europe. "This event not only benefits the communities in which we live and work but also teaches us about teamwork and social responsibility."

The company's commitment to corporate social responsibility extends beyond IMPACT DAY. Prologis provides employees with 24 additional hours of paid time off each year to volunteer at non-profit organisations: 16 hours for company-sponsored charitable organisations and 8 hours for the non-profit organisation of the employee's choice.