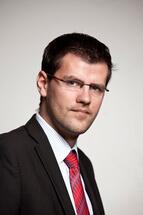 The promotions are:
• Martin Polák to the position of Senior Vice President & Country Manager for the Czech Republic & Slovakia. Martin joined Prologis in 2008. He is in charge of all Prologis' development and leasing activities in the Czech and Slovak markets, as well as the project management, property management and finance departments. Prior to joining Prologis, Martin worked for the IPEC Group, where he held the position of Manager for logistics and industrial facilities. Martin graduated from the Slovak Technical University in Bratislava with a degree in Economics and Building Industry Management.

• Michal Vrba to Director of Project Management for the Czech Republic & Slovakia. He will be responsible for land development, delivering of all new developments including a wide spectrum of turnkey BTS solutions to Prologis' customers in the Czech Republic and Slovakia. Michal graduated from the Czech Technical University in Prague with a degree in Business and Management in Civil Engineering.

• Renata Michalczyk to Head of Property Management for Poland. She joined Prologis in 2010. She is an experienced property manager, having formerly spent more than five years at AIG/Lincoln, where she was responsible for warehouse facilities in Warsaw and in the Silesia region. She graduated from the Faculty of Economics at Warsaw University of Life Sciences and the Faculty of Management and Marketing at Warsaw School of Economics. She also holds a diploma in Property Management from the University of Ecology and Management

• Michał Ptaszyński to Director at the newly-created Land & Development department, led by Ewa Zawadzka, Vice President and Head of Land & Development. He will be responsible for land acquisitions, new investments and sourcing new projects. He has been with Prologis since 2011. Previously he worked at the Pomerania Development Agency and Torus, a property development company, holding different managerial positions. Michał graduated from the Faculty of Geodesy and Real Estate Valuation at the University of Agriculture and Technology in Olsztyn, is a certified property manager and holds a CCIM (Certified Commercial Investment Member) designation.
"Promotion is a natural process in the development of a company and employees," said Ben Bannatyne, Prologis Managing Director, Central & Eastern Europe. "We are proud that our company has a team of committed and skilled employees who use their experience and expertise to support our customers."

With its active engagement in five countries across the region (Poland, Czech Republic, Hungary, Slovakia
and Romania) and a portfolio totalling more than 3.7 million square metres, Prologis is the leading operator
of distribution facilities in Central & Eastern Europe (as of 30 June 2014).
Prologis