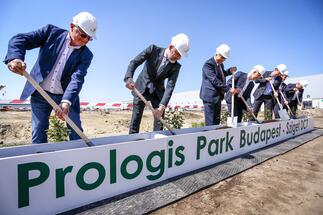 Inspired by Earth Day, the eco-themed event was marked by a tree planting ceremony. It is the seventh facility to be built at Prologis Park Budapest-Sziget, which is fully occupied. It is also Prologis' 38th domestic building and the first speculative development in the Hungarian market since 2008.

"With a portfolio that has 97-percent occupancy and an exceptionally high customer retention rate of 90 percent in Hungary, now is the right time to start expanding our portfolio and launch a new development," said Laszlo Kemenes, senior vice president and country manager, Prologis Hungary. "This new state-of-the-art facility meets all the requirements of today's customers by combining Prologis' customer-focused, high-quality facility management with its global commitment to sustainability."

Prologis Park Budapest-Sziget currently comprises six buildings totalling 128,000 square metres. The park is located in the industrial zone of Szigetszentmiklós, in a south-eastern submarket of Budapest that provides direct access to the national and international road network via the Budapest ring highway.

Prologis' portfolio in Hungary totals more than 610,000 square metres of industrial space and includes eight parks in the greater Budapest area and Hegyeshalom. Prologis is the leading distribution space provider in Hungary, with approximately 30 percent of existing market stock.
Prologis