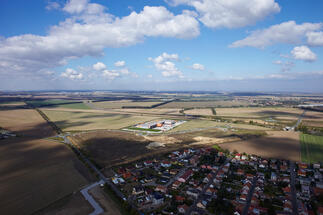 The new project for ČERVA, a wholesale personal protection equipment supplier, is the second at Prologis Park Prague-Airport, following a speculative logistics facility of 30,000 square metres. The building will feature modern cross-dock facilities, including an outside ramp for side loading.

"As we have been co-operating with Prologis for more than six years in this region, we are most confident in this expansion and in Prologis' ability to deliver a quality and tailored facility to our specific requirements," said Albert Giliaev, Chairman of ČERVA.

"We are delighted that ČERVA has chosen Prologis to build its new state-of-the-art distribution facility at our Prologis Park Prague-Airport," said Martin Polák, Senior Vice President andCountry Manager for the Czech Republic & Slovakia, Prologis. "We only recently purchased Prologis Park Prague-Airport, soto be already embarking on our second project confirms that the park's prime location makes it one of the most attractive hubs for commercial development in the area." 

Prologis Park Prague-Airport is located by exit 7 on the R6 highway, just five minutes from Prague Václav Havel Airport, three minutes from the Prague Ring Road and 10 minutes from the D5 highway, which connects Prague with Pilsen and onto Germany.

Prologis owns and manages a portfolio of more than3.7 million square metres of logistic and distribution space in Central & Eastern Europe (as of 30 June 2014).
Prologis