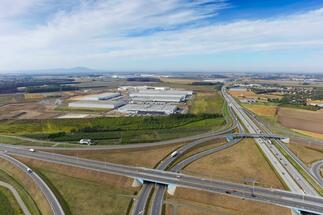 The central thinking of our Essentials Marketplace is to respond to our customers' needs with fitting solutions. With over 18 million square meters of logistics real estate across Europe, our scale and expertise has enabled us to forge partnerships with trusted suppliers, allowing us to offer customers easy access to the equipment they need at attractive rates. We can take care of our customers' product procurement, helping to make their lives easier and allowing them to focus on their own customers' requirements.
Products available on the Prologis Essentials Marketplace are:
Prologis SolarSmart: Green energy production that helps our customers reduce the impact of their operations on the environment. Across Europe, 108 of our customers are already using solar energy systems that we have installed and maintain. Our team of experts are ready to help new customers switch to a greener and more sustainable energy solution, with all the benefits that reducing a business's carbon footprint brings.
LED lighting: With many of our customers now operating longer hours, LED lighting helps improve employee wellbeing and lowers energy consumption and costs. Via our Essentials Marketplace, customers can easily and economically upgrade to 'smart' LED warehouse lighting, with movement sensors and daylight controls.
Warehouse racking: Fitting out a warehouse with racking can be a time-consuming and costly exercise. The know-how we already have about a customer's space and our established network of suppliers allows us to be one step ahead when it comes to designing, procuring and installing standard racking, mezzanines or automated systems. Our global scale enables us to secure competitive market rates and provide innovative, tested solutions, so customers can access a wide range of top-quality racking solutions.
Forklifts: Essential to the smooth running and efficient operation of any warehouse, our complete Forklift Solutions provide customers with a simple and cost-effective procurement solution for a selection of competitively priced, preconfigured forklifts, reach and pallet trucks.
In addition to our Essentials Marketplace in Europe, the next phases of our Prologis Essentials platform will include Facility Management and Customer Resource services, to provide the highest care in all customer interactions.

Prologis