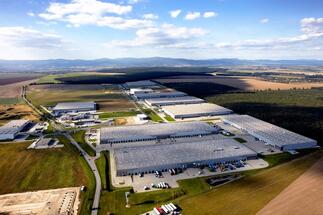 The facility has been awarded the first BREEAM "Very Good" accreditation - with a score of 60.9% - since new, stricter standards were implemented in 2013.During its construction, the Prologis team met rigorous requirements in order to deliver a modern, energy-efficient production and distribution facility, while adhering to strict environmental guidelines for the preservation of the surrounding land and resources.

"We strive to provide our customers with tailored solutions for their facilities, which incorporate both environmental and economic specifications. We are extremely pleased to have received such a high BREEAM rating for this project," said Martin Polák, senior vice president &country manager for the Czech Republic and Slovakia, Prologis. "This facility is testament to Prologis' ability to fulfill our customers' requirements, as well as to reduce operating costs and increase profitability, especially regarding water consumption and minimization of waste, which achieved scores of 82 and 80 out of 100, respectively."

Goldbeck acted as the general contractor of DC8 and ARCADIS CZ led the process of obtaining the BREEAM accreditation.

Prologis Park Bratislava is a state-of-the-art industrial park that currently consists of 10 buildings, totaling 260,000 square metres. Strategically situated 24 kilometres east of Bratislava's city centre, two kilometres from Senec and 16 kilometres from the international airport, the park is ideally suited for domestic and international logistics operations.

Prologis is the leading provider of industrial space in Slovakia with three distribution parks, totalling 455,000 square metres, located in Bratislava (Senec), Galanta (Gan) and Nove Mesto.
Prologis