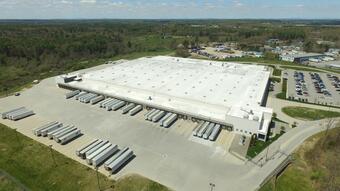 In November 2019 NIPÜF Group signed a sale and purchase agreement with Soulbrain HU Kft. concerning a 4-hectare development area, which now accommodates a 4,700-sqm factory. The company produces non-aqueous electrolytes for lithium-ion batteries to be used in various appliances, such as cell phones or electric cars. The new transaction reflects the growing demand for their products: although the first plot still has room for expanding the factory, the additional 2 hectares support Soulbrain's long-term plans.
Soulbrain obtained the occupancy permit for the plant in February, and production is set to begin in April. The initial staff of 20 will be doubled within two years.
With this transaction, development land plots sold by NIPÜF Group total at 354 hectares, comprising six locations nationwide, including 26 hectares out of 62.8 in Tatabánya. The remaining 36.8 hectares in the park are available for warehouse or factory developments, as well as for sale.
Dr. László Kiss, CEO of NIPÜF Group said: "We have industrial parks in 17 cities for customers interested in built-to-suit warehouses or development land. We are constantly working on supporting the country's economy: NIPÜF has recently delivered an 11,000-sqm warehouse elsewhere, followed by this new land transaction. We are happy to continue to cooperate with Soulbrain, whose innovations contribute to the spread of eco-friendly e-cars.
NIPÜF