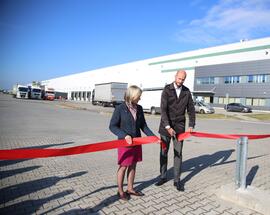 A new access road section between buildings DC5 and DC7 will allow easier access for several of our customers, while ensuring faster entry to loading areas by enabling them to use a shorter route without having to drive around the park.
Development will continue in the future, leading to the completion of a complete road network in the grounds of Prologis Park Budapest-Sziget by the summer of 2022, serving the needs of all our partners and their employees at the park. The well-being of our customers and their workers is extremely important for us, so we are always on the lookout for ways to make their lives easier and their operations as efficient as possible.
The new road was opened in a special tape-cutting ceremony featuring the Prologis team and the park's customers. The smiles on customers' faces on seeing the completed road demonstrated just how much of a difference to their day-to-day operations the new access section will make.
"Opening this new road section may not seem like a massive development, but for our customers at Prologis Park Budapest-Sziget, it is an important moment," said Szilvia Andrelli, Real Estate and Customer Experience Director at Prologis. "It is through thoughtful developments such as these that we respond to our customers' needs, making sure their logistics spaces as well-suited to their operations as possible. It was special for us all to gather together to officially open this development, which will bring such significant benefits to our customers."
The construction of the new access road is part of Prologis' business philosophy focusing on providing services for customers going beyond the four walls and roof of the warehouses where they work. This includes the presence of dedicated Customer Experience Teams providing support and advice for customers, as well as the company's PARKlife initiative, which provides facilities within parks to enhance quality of life for customers' employees.
Cutting the red tape for the new road section at Prologis Park Budapest-Sziget has ushered in a new era of even more efficient operations for customers working at the park. Whether it is caring for fully developed parks, introducing new developments to meet customer needs, or maintaining a constant dialogue about what we can do to help, quality service is... Made in Prologis.
Prologis