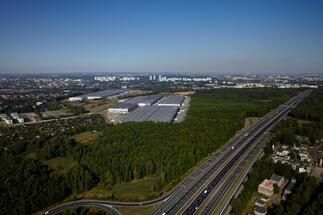 The transactions at Building 2 comprise a new lease agreement for 9,000 square metres and a lease renewal of 24,000 square metres.

Moto-Profil started its partnership with Prologis more than five years ago. At the time, the company focused on its dynamic growth and core business and decided to entrust all matters related to logisticsfacility management to a specialistexternal partner. Currently, the company's facility employs more than 500 people, who support deliveries to anetwork of 1,000 trade partners each day, reaching more than 11,000 garages throughout Poland.

"The renewal and extension of the partnership with the new lease agreement is confirmation that the selection of Prologis as ourpartner and Prologis Park Chorzów as the key location for our national logistics centre five years ago was the right decision and an effective business solution. I am convinced thatthere are many years of mutual development and further expansion ahead of us," said Bogumił Papierniok, Managing Director of Moto-Profil.

"We are pleased that Polish companies are building their competitive advantage withPrologis services and offers," commented Piotr Brycki, Leasing Manager Prologis Poland."The'customer always comes first' motto drives our businessand itis why we understand and are able to fulfil Moto-Profil's requirements so well. The excellent location of the park near major transport routes, the quality of the facility and the access to skilled labour ensure perfect conditions for Moto-Profil to strengthen its market position."

Colliers International acted as the broker in the transaction.

"The renegotiation of the lease agreement for Moto-Profil is a good example of a "win- win" situation. The attractive lease terms coupled with an excellent location of the scheme and high quality of services enable stable business development," said Maciej Cieliczko, Associate Director, Industrial and Logistics Agency, Colliers International.
Prologis Park Chorzów is a state-of-the-art distribution centre, totalling 235,000 square metres. It is located on the western outskirts of Katowice, in the immediate vicinity of the A4 Motorway, connecting Ukraine and Germany, and 15 kilometres from the Gliwice-Sośnica interchange, a junction of two of the largest international transport corridors in Poland.

With its active engagement in five CEE countries and a portfolio totalling 4.3 million square metres, Prologis is the leading provider of distribution facilities in Central and Eastern Europe (as of30 June 2015).



Prologis