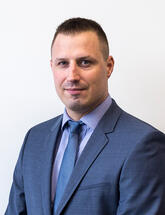 Prior to joining CTP, Július worked in Microsoft, Renault, & Molson Coors.
"I am pleased to join CTP. I had the opportunity to work with some clients using CTP's built-to-suit solution and I recognized that CTP is the leader in the industry. In my previous positions, I have possibilities to visit industrial parks where logistics companies have their warehouses and I have seen the huge growth potential especially in the e-commerce and the on-line sales aftermarket, which is becoming more and more popular. We can see that more brands are starting their on-line sales and good logistics is one of the basic pillars for this operation," says Július.
Today, CTP has is in more than 80 strategic locations and with offices in 7 countries. "I'm happy that our team is continuously growing. We are prepared to help also to our clients to growth. We understand that our clients are dealing with many business challenges, and we perceive ourselves as the right business partner who can provide them maximum support. Good relationships are built on the fact that we do not provide a one-size fits all solution, but rather we work with our client's to realize their vision, in as short of time as possible," adds Remon Vos, CEO of CTP.
CTP is a responsible company that helps to not only their clients and partners, but also to the communities in which they operate. They are supporting these communities by working with proven effective charities like the Tereza Maxová on a long-term basis.
CTP