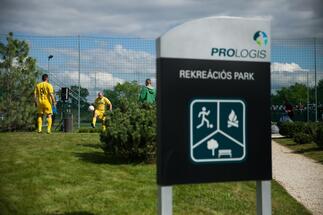 Prologis, Inc., the global leader in logistics real estate, congratulates Inter Cars Hungary for scoring the winning goal at the fourth annual Prologis five-a-side football tournament in Hungary on 22 September.
Brendon claimed second place, and Europapier (alias Papírkutyák) third place, in the games.
"We founded the tournament in 2014 to facilitate healthy lifestyles and give our customers a way to promote team-building," said László Kemenes, senior vice president, country manager, Prologis Hungary. "It is great that, every year, the games attract dedicated players and tireless fans."
This year the event took place at the recently opened recreation park at Prologis Park Budapest-Gyál.

"This is the second location, after Prologis Park Budapest-Harbor, where a five-a-side football pitch and a spacious community area encourage people to enjoy sports, picnics and relaxation. Keeping sustainability in mind, we also designed a nature trail in the park, which features information about how visitors can decrease their ecological footprints," added Kemenes.
Prologis is the leading provider of distribution facilities in Hungary with more than 688,000 square metres of logistics space in nine industrial parks (as of 30 June 2017).
ProLogis