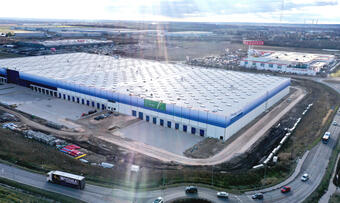 GLP has simultaneously obtained an occupancy permit for the first building, while two further units are under construction. The two phases of the project will comprise more than 150,000 SQM of prime warehouse space.
Less than one year since construction commenced, the first 23,000 SQM facility of Sziget Logistics Centre has obtained its occupancy permit. This building, along with a 22,000 SQM extension, was previously let to one single client, Fiege Group, a leading European logistics company specialising in efficient supply chain solutions.
The second phase of the first building is set to be completed by March, whilst the construction of a separate building is expected to be completed by September 2022. On completion, Sziget will comprise approximately 70,000 SQM of modern, prime logistics space.
Sziget Logistics Centre is GLP's first development in Hungary and introduces the GLP Design Standard to the Hungarian market. This comprises a complex technical specification focused on efficient use of storage space, enhanced layouts and significant cost savings through lower energy consumption. An increased clear height of 12 meters offers more efficient storage, while an improved floor load capacity allows the use of heavy vehicles or machinery.
GLP's Design Standard also puts significant emphasis on ESG matters, primarily sustainability, CO2 reduction, wellbeing, and biodiversity. These goals are achieved via improved thermal insulation, LED lighting, energy efficient heating systems, extended use of natural light, and smart metering, amongst others. The facilities can be easily accessed by public transport, while e-car users can charge their vehicles at EV chargers.
István Kerekes, Country Manager of GLP Hungary, commented:
"GLP Sziget is an outstanding logistics development in the Hungarian market, setting a high new standard for warehouses. Both GLP's global and local experiences prove that creating sustainable buildings in key locations provide a competitive edge, and we look forward to taking this path forwards to support the expansion of our current and prospective customers."
GLP