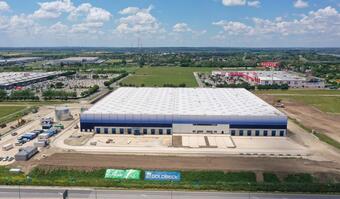 Fiege Group has leased 43,000 SQ M of high-quality warehousing space and offices in GLP Sziget phase I and II. Sziget Logistics Centre is located in Szigetszentmiklós, on the southern outskirts of Budapest, Hungary, with direct access to the M0 ringroad, and convenient access to public transport. The first phase, comprising 23,000 SQ M, is due to complete in Q3 2021.
Sziget Logistics Centre introduces the GLP Design Standard to the Hungarian market. The Design Standard is a technical specification focused on more efficient storage space, enhanced layouts to facilitate logistics operations, and substantial cost savings from lower utility consumption with a strong focus towards ESG matters namely on sustainability, carbon reduction, wellbeing, and biodiversity.
The buildings, constructed by Goldbeck Hungaria Kft, will benefit from a clear height of 12 metres, giving customers an additional storage level in the warehouse, which can generate improved lease efficiency of up to 20%. It will also have a maximum floor load of 7 tons/SQ M, enabling the use heavy vehicles or machinery.
István Kerekes, Country Manager of GLP Hungary said: "Sziget Logistics Centre is set to raise the bar in terms of technical specifications in the Hungarian warehouse market. We are happy that Fiege Group, a new addition to GLP's customer community, will be the first to benefit from our best-in-class technical features. As part of our growth strategy in the region, we are committed to supporting the expansion of current and future customers through developing further high-quality logistics assets in key locations across the country."
Gergely Hepp Managing Director of Fiege for CEE, said: "The growth of e-commerce encouraged us to look for flexible logistics space where we can expand our business. We focus on strategic locations, which guarantee easy access to transportation hubs and quick deliveries to our client's customers. GLP Sziget fully meets those expectations."
GLP