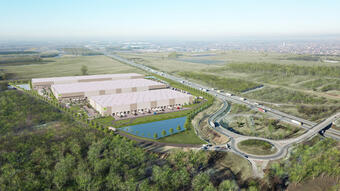 The Geis Group will store Knorr-Bremse Systeme products in the new almost 16.000 square meters logistics facility with extra features related to the braking systems for rail and commercial vehicles produced by Knorr-Bremse Group.
Geis Logistics Hungary Kft explains: "We are delighted to move into a great facility with strategic location such as CTPark Vecsés. The flexibility and efficiency of CTP was an important factor in choosing this location to store the special products of our partner Knorr-Bremse Systeme, the global market leader for braking systems and a leading supplier of other rail and commercial vehicle systems."
The Geis Group is an owner-managed company with more than 6.000 employees in seven countries which provides standardized and customer-specific transport solutions as well as the entire range of logistics services. In the new almost 16.000 m2 facility, CTP will develop several extra features especially designed to serve the needs of Knorr-Bremse products which make a decisive contribution to greater safety and energy efficiency on rail tracks and roads around the world. About 29.700 employees at over 100 sites in more than 30 countries use Knorr-Bremse's competence.
CTP