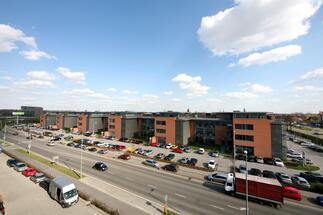 Metro is a major FMCG wholesale company with various 'cash and carry' stores throughout Hungary and Europe. The unique cold storage unit with a cooling capacity of 2-4ºC and 10-12 ºC has been altered according to the new tenant's specific requirements including insulations, internal separations and goods handling machinery.

István Fazekas, Head of the Industrial department at C&W Budapest, said: "Europolis Park Budapest Aerozone is a unique industrial park with a strategic location in terms of road transport and air logistics. We are delighted to introduce such a significant and renowned company to our exclusively represented industrial park. Metro is the market leading 'cash and carry' chain in Hungary, hence this is an excellent addition to the park's existing reputable tenant mix."

Péter Szalma, Leasing Manager at CA Immo in Hungary, added: "We are pleased to welcome Metro in one of our best located logistics schemes. We are confident that our costumer focused approach and our flexibility to meet all specific demands of Metro influenced their decision and Europolis Park Budapest Aerozone will accommodate them in the long term."

Gábor Kiss, Head of Supply Chain at Metro, commented: "We are extremely happy with our new location at Europolis Park Budapest Aerozone. Both the unique technical features of the park and the flexibility of the landlord helped our decision. We are confident that this building will serve our real estate needs in the long term and increase the reputation of our company."

C&W is the exclusive letting agent of Europolis Park Budapest Aerozone.

Europolis Park Budapest Aerozone is a uniquely located modern logistics complex on the border of Budapest and Vecsés, in the immediate vicinity of Liszt Ferenc International Airport. The park comprises of three, 'Category A' logistics and big-box warehouse buildings and a 'Category A' office block. Besides the excellent location Europolis Park Budapest Aerozone also benefits from easy access by public transport, on-site restaurant, customs office and facility management as well as the proximity of a strip mall, restaurants and a number of hyper and supermarkets. The centre of Budapest is easily reachable within 20 minutes.
Cuhsman