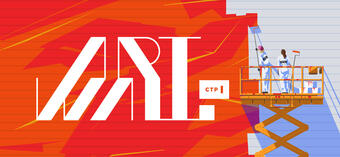 The international competition CTP Art Wall is unprecedented on the Czech cultural scene. "I'm delighted that we have succeeded in linking art and business. We want to help artists to present their work in non-traditional format while raising the cultural level of our country," says Remon Vos, CEO of CTP, adding: "I truly believe that we will be able to discover interesting and even new talents."
The main objective of the project is to improve the public space and the "beautification" of industrial and logistics halls, not only in the Czech Republic, but also in other countries of Central and Eastern Europe where CTP operates. Winners of the first year will be given the opportunity to create artwork on two walls of CTP's industrial buildings, one at the CTPark Humpolec near the D1 motorway and the other one at CTPark Prague Airport. Altogether, CTP will provide more than 6,500 m2 of space.
Of all registered, the jury will first select top 10 artists, and then announce the winners at the gala evening. The jury will be composed of representatives of CTP, CBRE, Architect Acht, Global Street Art, DRAWetc. and representatives of the locations.
"We did not put any limits in terms of the topic of the work. We want to give space to creativity and fantasy. We will also evaluate the work on the basis of the relation to the location, whether environmental or thematic," says Remon Vos.
Partner of the CTP Art Wall project is CBRE with the Art of Space project. It focuses on industrial zones and warehouses in the Czech Republic. The project aims to inform, to educate and to offer space for sharing experiences and knowledge among professionals, authorities, and the general public. The CTP Art Wall competition is organized by the DRAWetc visual studio.
CTP