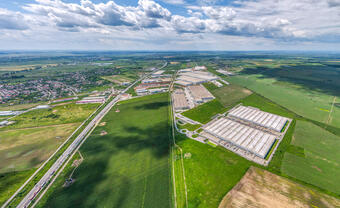 Structured as a dual tranche, CTP raised a total of €1 billion under its €4 billion EMTN programme. The issue included a €500 million four-year tranche and a €500 million eight-year tranche. Total demand for the issue reached nearly €4 billion, evidencing the solid standing that CTP holds on the international bond markets.
At pricing, the four-year bonds' annual coupon was fixed at a rate of 0.5%, the lowest ever coupon on a benchmark bond offering from a CEE corporate. The eight-year tranche has a fixed annual coupon of 1.25% and marks CTP's longest tenor to date.
Richard Wilkinson, CFO of CTP, comments: "In our second visit to the bond market in 2021, CTP was able to successfully execute its inaugural dual tranche Green Bonds. Again we were able to attract significant demand from both existing and new institutional investors with over 200 investors participating. This issue marks the final delivery on our promise to migrate our debt funding to a largely unsecured debt platform, with the bond proceeds going towards the prepayment of bank financing of our Czech portfolio. Importantly, this issue also establishes further data-points for our debt-yield curve, which now consists of five different tenors."
The new debt issue achieved broad institutional distribution, selling primarily to asset managers (53% of the €1 billion issued), with the bulk of demand coming from the UK/Ireland (42%), Benelux (18%), the DACH region (14%) and France (11%). Proceeds from the bond sales will be used to refinance a portfolio of Eligible Green Assets in accordance with CTP's Green Bond Framework. CTP has chosen to issue execlusively Green Bonds following its 2019 commitment to certify its entire portfolio of logistics and industrial projects to the BREEAM Very Good standard and above. While some 67% of CTP's debut issuance in September 2020 was placed with typical green investors, this increased to even 86% of the current June 2021 issuance.
Jan-Evert Post, Head of Funding & Investor Relations at CTP stated: "We are pleased with the outcome: after taking into account the prepayment of financing for the Czech portfolio, these coupons result in an average cost of debt of 1.25% to CTP, down from 1.6% following the bond issue last February and 2.2% immediately before we issued our first bond back in September 2020."
The newly issued Green Bonds mature on 21 June 2025 and 21 June 2029 respectively and carry investment grade ratings from both Moody's (Baa3, outlook stable) and S&P (BBB- Stable).
CTP