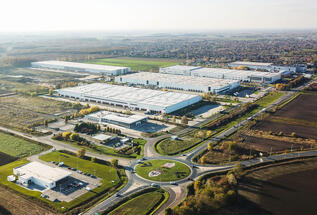 Total demand for the issue peaked at circa €1.3 billion, reflecting the solid reputation CTP has built with investors in corporate green bonds in the 15 months since the company entered the capital markets for funding.
The pricing of the annual coupon in January's four-year tranche was fixed at 0.875% compared with 0.625% for CTP's five-year green bond issued in September 2021, reflecting rising market rates on the back of higher inflation expectations. The company's average cost of debt fell to 1.12% from 1.19% since September 2021. The tenor of CTP's debt now stands at 5.9 years versus 6.2 years.
In 2021, CTP was the largest issuer of ESG-certified debt in the European real estate sector, with a total of €2.5 billion placed in five separate tranches over the course of the year, including the lowest ever coupon achieved at 0.5% for a property company with its assets concentrated in Central and Eastern European markets.
Richard Wilkinson, CFO of CTP, said: "CTP decided to return to the capital markets early in 2022 to secure competitive pricing for our rapidly-expanding development pipeline of sustainable industrial and logistics assets and secure our funding for the rest of the year. We believe that with interest rates ticking up and higher inflation expectations becoming embedded in the bond markets this was a good time to issue our eighth bond. We are very satisfied with investor demand and the level of pricing we achieved, in what was one of the busiest periods on record in the Eurobond markets. We saw greater demand than previously with around 90% of all investors having a green investment focus. This demand shows the attraction of CTP's sustainability credentials as the only European industrial and logistics real estate issuer with a 100% BREEAM sustainably-certified portfolio."
The new debt issue achieved broad institutional distribution, selling primarily to asset managers (66% of the €700 million issued), with the largest group of buyers coming from the Benelux (28%), closely followed by the UK/Ireland (24%) and then the DACH region (19%) and France (16%).
Part of the proceeds will be applied by CTP to finance the concurrent €168 million capped tender offer of the €650 million (€500 million outstanding) 2.125% Notes due October 2025. The balance will be used to cover CTP's total anticipated financing needs for its development pipeline in 2022, which will see the company lift its portfolio to a target 10 million m2 GLA by the end of 2022, a year earlier than the target set at its IPO in March 2021. All developments undertaken by CTP are carried out to the BREEAM, 'Very Good'
CTP