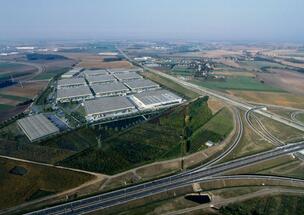 "When a customer needs to distribute goods across half of Europe, it is essential that they choose a trustworthy, professional partner that is able to meet their needs and expectations," said Magdalena Kostjan, leasing manager for Prologis Poland.



"With a strategic goal of expanding its network outside Polish borders, CCC SA decided to stay at Prologis Park Wrocław IV due to its perfect location, modern facilities and solid relationship with Prologis. It's definitely the best choice for giving us peace of mind, which let us focus on the development of CCC SA and its logistics operation," said Sylwester Szymczak, Logistics Director at CCC SA.



Prologis Park Wrocław IV comprises three buildings with warehouse and office space totaling 50,000 square metres. The park also offers expansion potential of up to an additional 35,000 square metres. Current customers include GEFCO, Hi Logistic and Yusen Logistics.



Strategically located at the A4 motorway (Berlin - Wrocław - Cracow - Ukraine) in Kąty Wrocławskie, the park is 35 kilometres from downtown Wrocław and 20 kilometres from the Bielany Junction. The western city by-pass of Wrocław is also nearby.



With a portfolio totalling over 1.9 million square metres, Prologis is the largest owner and operator of distribution facilities in Poland (as of 30 June 2013).
Prologis